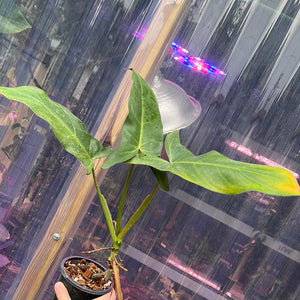 Philodendron Mexicanum is an easy to care for Plant that is a great addition to any collection. As the name suggests this plant is native to Mexico. The maroon undersides of the leaves are a stunning burst of color. 
LIGHT:
Philodendron Mexicanum care involves giving it a lot of sun i.e. about 70 to 85% of exposure to natural but filtered sunlight.
WATER:
Overwatering is the most common mistake when you grow Philodendron Mexicanum. Let the soil dry out between watering.
HUMIDITY:
50%-80%
The plant pictured is the representative of the plant you will receive. Plants come in 4" pots and are growers choice.