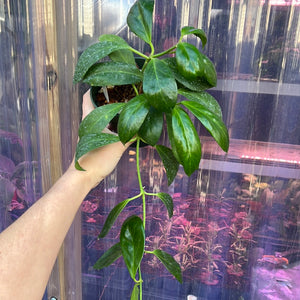 Hoya Obscura is distinguished from other species of the Hoya genus by its glossy, wax-like, veined leaves that can assume tinges of deep bronze-red under certain circumstances. Not all plants exhibit this tendency though. This plant is an epiphyte native to the Philippines, with compact bushy growth and a mild fragrance.
Light: Bright, indirect light is best for this plant. 
Humidity: 40%-60% is ideal.
Water: The golden rule to remember here is never to let this plant dry out completely and make sure not to overwater it. Balance is crucial.
The plant pictured is a representation of the plant you will receive. All plants are in 4 inch pots and growers choice.