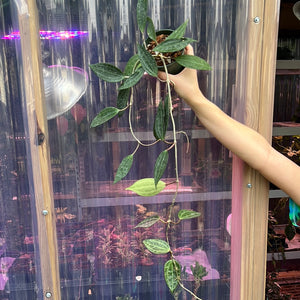 Hoya Macrophyllas are long-lived, low maintenance succulent vines. They like moderate amounts of light, well-draining soil, and a sparse watering schedule.
LIGHT:
Hoya Macrophylla like bright indirect light. 
WATER:
Allow the soil to dry between waterings. 
HUMIDITY:
50%-80%
These plants come in 4" pots and are grower's choice. The plant pictured is representative of the plant you will receive.