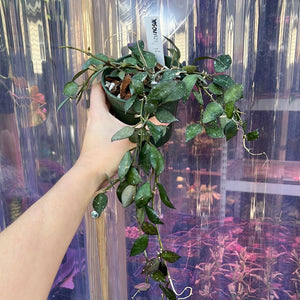 Hoya Lacunosa is truly renowned for is its flowers. It blooms generously throughout the year and can turn into a natural fragrance diffuser wafting a sweet spicy scent around the plant in the evenings – much like cinnamon.
They are relatively hardy, non-fussy, and very rewarding to grow to add variety and texture to an assortment of hanging plants with its semi-succulent leaves and wax-like flowers.
LIGHT:
Bright indirect light to dappled sun
WATER:
Water when dry and do not over water this plant. 
HUMIDTY:
50%-80%
These plants are in 4" pots and are grower's choice. 
The plant pictured is representative of the plant you will receive.